Cannon Theater Company Presents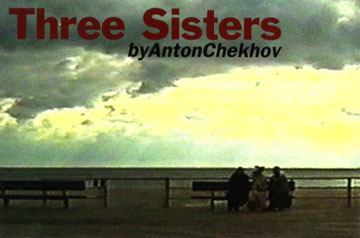 Set Michela Strumberger Costumes Olga Maslova Lighting Dale Knoth Sound
Crispin Freeman Video Joe Foley SM Casey Rafter Dramaturgy Elizabeth Whitaker
With: Wayne Adams*, Mike Allard*, Kevin Bergen*, Cynthia Boorujy*, Dan Cohen,
Barbara Colton*, Jonathan Davis*, Rachel Fowler*, Andrew Garman, Holly
Natwora, Joan Pollak*, Nina Savinski-Moston, Geeda Searfoorce, Andrew
Shulman, James Sobol*, Elena Solovei, Andrew Welsh, Nitza Wilon
*AEA member; showcase approval pending
Following two years of development, our production of Chekov's masterpiece played at the 28th Street Theater in January and February of 1998. The sold - out run featured noted Russian film star Elena Solovei.



Photo: Olga Maslova



In this innovative new production of Chekhov's masterpiece, the sisters are first seen much later in life, sitting by the ocean in Brighton Beach. Celebrating Irina's birthday, Olga remembers their youth and leads them through the world of their memories.



Photo: Olga Maslova



This look at Three Sisters combines digital video with live action, making the stage a place of memory in which to explore what critic Richard Gilman calls, "time as a condition."